PRESS ROOM
Mrs. Renfro's Announces Blackberry Serrano Salsa at 2020 Winter Fancy Food Show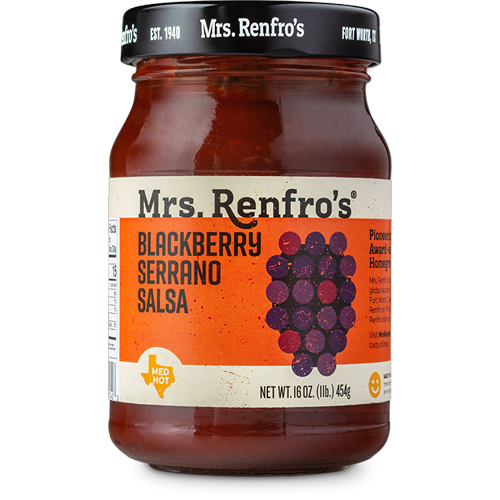 Nearly 80-year old company expands innovative line of sweet heat condiments
FORT WORTH, Texas - January 20, 2020 - Fort Worth-based Mrs. Renfro's Salsa, the seventh largest salsa brand in the United States, will introduce a fun new salsa flavor, Blackberry Serrano, at the Specialty Food Association's 2020 Winter Fancy Food Show in San Francisco. A rare combination, blackberry serrano salsa is one of the only blackberry salsas commercially available and is the latest advance in a long tradition of Renfro's flavor innovations.
Mrs. Renfro's 31st product in the market, Blackberry Serrano expands the company's popular fruit salsa offerings, which include Mango Habanero Salsa, Peach Salsa and Pineapple Salsa. The serrano peppers, at a Scoville rating of 10,000 - 23,000 (between jalapenos and habaneros), add enough heat to rank the salsa at Mrs. Renfro's Medium Hot level. The variety is the first addition to Mrs. Renfro's line of condiments since 2018 with the introduction of Carolina Reaper Salsa, which is made from the current record holder for the hottest pepper in the world.
"Our 'sweet heat' salsas have been some of our customers' favorites, so we wanted to offer them a new option for the new year," said Doug Renfro, president of Renfro Foods, third generation co-owner and developer of many of the company's flavors. "Blackberry has a lot of tangy sweetness, similar to our mild Peach Salsa, but the serrano heat offers a little something extra. It goes great with chips or poured over cream cheese and would make a great addition to any recipe that calls for a jar of salsa."
Attendees at the Fancy Food Show in San Francisco will be able to taste test the new salsa, launched in updated Mrs. Renfro's branding that was freshly introduced in June 2019 at the Summer Fancy Food Show.
"Our family believes in bold ideas as well as bold flavors," said Becky Renfro Borbolla, senior vice president and co-owner of Renfro Foods, as well as current vice co-chair of the Specialty Food Association. "We're excited to receive feedback on this new addition from our customers and friends, as well as showcase all items now available from the Mrs. Renfro's team."
For a sample of the new flavor, Winter Fancy Food Show attendees can visit Booth #6268 at the Moscone Center in San Francisco, California, through January 21, 2020. Mrs. Renfro's Blackberry Serrano Salsa is expected on store shelves within a couple of months but will be available on Amazon.com and MrsRenfros.com this month, packaged in 16-oz. jars.
About Renfro Foods and Mrs. Renfro's Salsa
Renfro Foods is a Fort Worth-based, third-generation family business that manufactures salsas, peppers, relishes and sauces. The company's award-winning salsa line, Mrs. Renfro's, includes more than 30 products available through supermarkets, gourmet food stores and gift shops in all 50 states and internationally. Originally founded in 1940 as a packaged spices and pepper sauce business, the Renfro family has continued to evolve and expand the brand into the multimillion-dollar business that it is today. In 2018 alone, the company was named a finalist for the Dream Big Small Business of the Year Award by the U.S. Chamber of Commerce. For more information about Renfro products, visit MrsRenfros.com and connect with the company on social media via @mrsrenfros.